New Project Photos

Laboratory Custom Equipment
Laboratory custom means New-Tech™ innovation, see some of our work.
Fan Platform Assembly Pictures
Spray Chamber Pictures
Spot Exhauster Information
Hood Cart Pictures
Mixer Pictures
Paper Cutter Pictures
Vent Box Pictures
Miscellaneous Custom Pictures
TOLL FREE: (866) 631-8324
FAX: (989) 631-8362
Email: Technical Sales
New-Tech™ New Fan Platform Assembly Pictures

(1 of 4)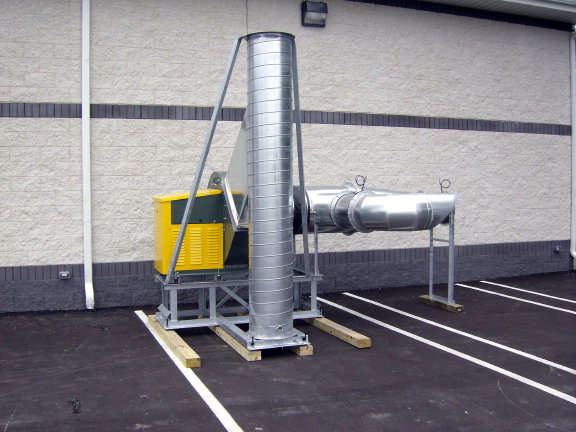 Fan Platform Assembly Picture FP-09

(8-124)
Side View of a utility exhaust Fan Assembly.
(set up in parking lot for photo purposes only)
This complete assembly can be furnished with all components needed from the roofline up to the exhaust stack outlet.
This unit is easily assembled after it is placed on customer's roof.
The custom fan platform is fabricated from cold rolled steel, welded and protected with a hot dipped galvanized finish and includes an electrical disconnect switch mounting bracket.
The assembly includes a galvanized roof curb, curb cap, either 1-1/2 or 2 Radius 90 degree elbows; galvanized connecting ductwork including EDPM inlet vibration isolators and outlet vibration isolators and a galvanized ventilation stack with support arms that eliminates the need for guy-wires.
The exhaust stack includes an additional 10' tall section (not shown) with reducer cone for proper exhaust velocity.
This assembly includes a Relief Damper used to maintain Stack Outlet Velocity with a Variable Air Volume System.
New-Tech normally furnishes (not shown in this photo) a PVC back draft damper that does not have any metal components that could corrode and cause this damper to stick open.